My husband and I love to cook. We watch as many cooking shows as possible, especially the competitions. We rarely copy recipes, however. It's all about learning techniques we can adapt to our own lifestyle and culinary tastes. And, I have to admit, I have pretty much mastered this pasta technique that we learned from watching Mario Batali, among others. This frugal pasta dish was just about the best pasta dish I have ever tasted, and it was made entirely of bits from my pantry, fridge and garden.
Zesty Linguini with a Creamy Vegetable Sauce
1/3# whole grain linguini (for 2 servings)
4 slices bacon
2 cloves garlic
2 small zucchinis, diced
approx. 6-8 small heirloom tomatoes, diced
approx. 1 cup heavy cream
1/2 c. Chardonnay
2 Tbl butter
Parmesan cheese
approx. 2 tsp red pepper flakes (I used 2 small packets, from takeout)
dried oregano, 1-2 tsp
Kosher salt & freshly ground black pepper (to taste)
While the pasta was cooking, I diced the bacon and cooked it until the fat was rendered, just short of crisp. I removed it from the pan to cook the zucchini and garlic in the remaining bacon fat, seasoning the zucchini lightly with the salt, pepper and some of the oregano. I removed the zucchini from the pan and deglazed it with the white wine.  When most of the wine was reduced, I added the tomatoes to the pan, seasoned them with salt, pepper and the rest of the oregano, and cooked them on high heat to reduce any excessive water. I then added a ladle of the pasta cooking water to the tomatoes, and cooked until the sauce began to thicken. It was still a bit thin, so I added 2 Tbl of butter, which thickened it nicely!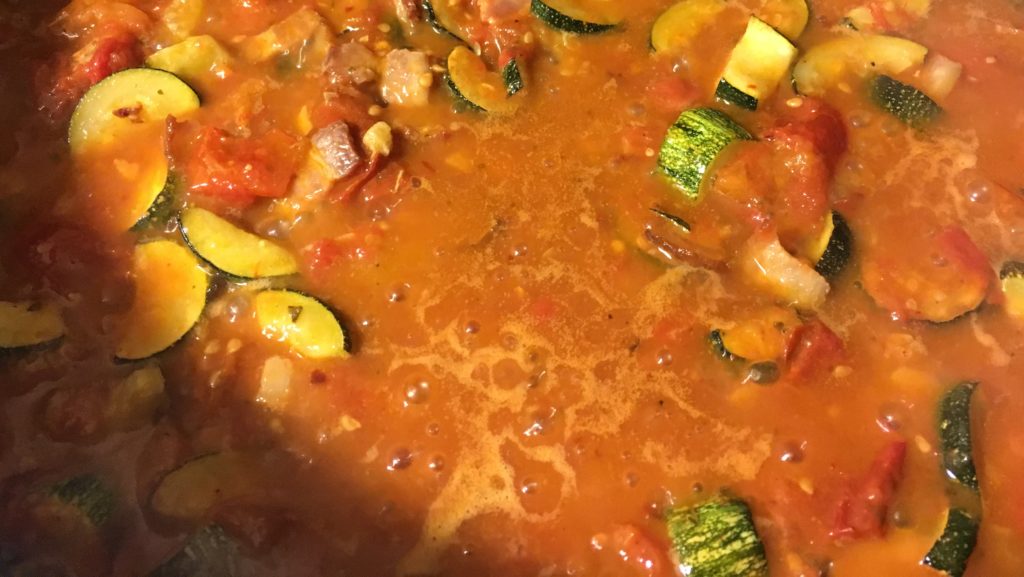 I drained the pasta and put it into the sauce. I then added the cream and, once the sauce came together, I turned off the heat and added a bit of Parmesan cheese. I served the dish with more cheese on top.
Delicious!!