This recipe is not too far removed from Melissa d'Arabian's black bean burger.  They both are somewhat spicy, which is a good thing, and do not use any rice, — which is a great thing!  Melissa uses crushed corn chips as a binder, which was a nice change.  But, this one uses oatmeal, — which happens to be one of my favorite ingredients!
I'm sorry to say that I cannot recall where I found it.  The original called for grated zucchini, which I did not have, so I substituted chopped mushrooms.  I'll need to keep this in mind, however, when my zucchini crop comes in this summer.
Oh!  I should mention that this Chipotle Honey Mustard is a killer!
Black Bean Veggie Burger
1/2 cup diced onion
1/2 cup diced red bell pepper
1 jalapeño, finely chopped (2 tablespoons)
1 cup chopped mushrooms
1 tablespoon olive oil
2 cloves garlic, chopped
1/2 teaspoon ground cumin
1 can black beans, drained, rinsed and coarsely smashed
1 large egg
1 chipotle pepper in adobo, minced
1 cup oatmeal, pulsed to a coarse powder in a food processor
coarse Kosher salt & freshly ground black pepper to taste
Saute the onion, bell pepper and jalapeño in olive oil until soft.  Stir in chopped garlic and season with salt, pepper and ground cumin.  Cook the mushrooms until slightly browned in some olive oil, to remove the excess water.  Add to the veggie mixture, in a medium bowl, and stir in the beans, chipotle pepper and powdered oats.  Adjust seasoning, if necessary.
The burger mixture needs to be refrigerated for awhile, then formed into four rather flat patties.  (The patties can be frozen at this point, and reheated, while still frozen, in a 400 degree oven, 18-20 minutes.)
Using a nonstick skillet, brown in olive oil, several minutes each side.
Serve on a bun of your choice (see mine, below) with Chipotle Honey Mustard!  Mix together, well:
3 tablespoons yellow mustard
3 tablespoons Dijon mustard
3 tablespoons mayonnaise
3 tablespoons honey
2 chipotle peppers in adobo sauce, finely minced
pinch Kosher salt
---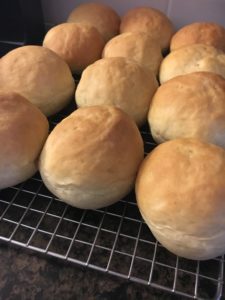 I used a "40 Minute Roll" recipe from Taste of Home.  I tweaked it a bit, and it turned out very well!  What I did:
Dissolve 2 tablespoons active dry yeast in 1 cup warm water.  Add a little honey, which tests and activates the yeast.  Let stand about 5 minutes, until bubbly.  Stir in 3 tablespoons oil, 1 egg, 1 teaspoon salt, and about 3 cups flour (I used a mixture of 1 cup whole wheat + 2 cups unbleached flour) to form a soft dough.  Turn out on a floured surface and knead until smooth and elastic, about 3 to 5 minutes.
Do not let rise.  Divide into 12 pieces and shape each into a ball.  Place 3″ apart on a greased sheet pan.  Allow to rest, covered, for 10 minutes (I let them almost double in size, which took a bit longer).  Bake for 8-12 minutes in a 425 degree oven.  Cool on rack before slicing.